The Gift of Oil website is the brainchild of Phil Bianchi who spent the early years of his working life working for blue chip food companies, ending up in Athens working for a large olive oil company.  There he was inspired by the quality of the Greek olive oils and vinegars which he felt were better than many such products on the UK shelves.
The Gift of Oil was born in the early 2000's and has grown into the sophisticated business that it is today.  A brand new website was launched this week and it reflects the hands on approach and attention to detail that is Phil's trademark.  Ever since the first oil he imported in 2005 he does not just source good oil from a producer and then re-order it every year.  Instead he visits the producer each January to work with him or her, tasting the oils as they come off the press and then helping to create the blend which he feels will best suit his customers.
Disisa
I first met Phil at one of the London House and Garden exhibitions fifteen to sixteen years ago.  This was just about the time he had started to work with the Di Lorenzo family who run the Disisa olive and wine estate in the Val de Mazara region in the northwestern Sicily.  By chance I had visited the estate around the same time and we had much to talk about.
The Disisa farm was once a convent and the oldest part dates back to the 16th century.  It is built around a courtyard in a lovely setting with long ranging views across 35 kilometers of countryside to the mountains in the distance.  The oldest groves are planted with Cerasuola olives with newer groves of Biancolilla and Nocellara del Belice.  In addition the estate grows all the other ingredients which are used in their range of infused olive oils.
Own Label Oils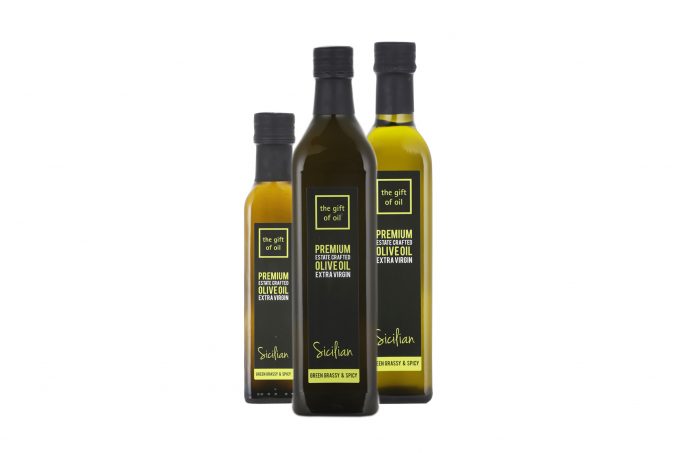 Each year the chosen blend of oils from the estate is packed with the Gift of Oil branding and sold in the Gift of Oil shop in Bolton and the website.  The current 2019  oil is an excellent example of what the estate can produce.  It has a wonderful aroma of cut grass, grated apple skins and carrots with some orange and kumquat citrus tones.  It offers a full salad bowl of flavours in the mouth along with green bananas and ripe stone fruit.  It is well balanced with a light bitterness and medium pepper.  It is full of interest without being aggressive
Last year Phil also offered a Portguese oil under his own label but the advent of the Corona virus has meant that he has not been able to go ahead with a similar offering this year.  However, he tells me that he has plans for another Portuguese oil for next year, maybe from the Upper Douro.
Guest Oils
In addition to his own label oils Phil also sells a small range of guest oils.  The current offering includes five first class oils from the 2019 harvest.  They are:
Frescobaldi from Tuscany,
Lia from the Greek mainland
CastelinS from the Vallee des Baux in France
Merula from Extramadura in Spain
Vea from Catalonia in Spain. (Look out for my next Memories post on my visit to this producer.)